About Clear Sky Windows
See Santa Fe in a whole new way
Clear Sky Windows, LLC is a locally owned business. To ensure the highest quality standards, the owner Richard England is onsite for each job.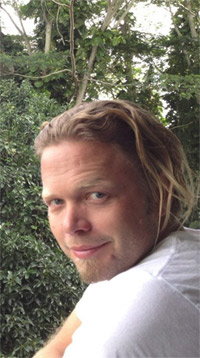 Our process starts with wiping/brushing away any accumulated dirt. We then scrub the window and frame with the solution and specialized wands until drag is no longer felt. If needed we then razor the window and re-wet. Then it's squeegee time! Once the bulk of the water is removed we use surgical grade lint free cloths to touch-up the edges and frames. Triple aught bronze wool is then used to remove any remaining debris. We then inspect the window from multiple angles/levels to ensure a perfect job. A second inspection then occurs at the end of the job during our walk-through with a window cleaner on both sides, as the bane of the window washer is that it's always easier to see the other side of the glass!
Clear Sky Windows provides free estimates, customizable cleaning schedules based on your needs, and guarantees 100% satisfaction with our work. We are licensed and insured.
Richard England was raised in Vancouver, Canada and then moved to Puerto Vallarta, Mexico for a number of years. Upon returning he ran across Santa Fe and has been living here on and off for the last 14 years. When not cleaning windows he can be found on the back-roads of New Mexico, dirt-biking, mountain biking, skiing/snowboarding, hiking, climbing, and various hobbies. He's traveled the world and enjoys talking on almost any subject. Originally Canadian you can count on him being kind, courteous, personable, with a good sense of humor, and he almost never says "eh" eh.